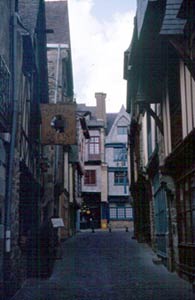 Hello,
Cycling is very popular in France, that we know already, but a lonely cyclist with burnt hands from too many hours of cycling in a scorching sun that's real live.
Every where I come people want to know what it is like to go cycling for such a long period on my own. Many a middle-aged woman (sorry, Mum) feels her mother's heart and wants to take charge of me.
The 6 weeks in Spain belong to the past and I'm glad that once again I can have conversations with the locals. The extensive pine-forests in the Landes bring me a scorching wind quite opposite to my direction. I take the ferryboat cross the Gironde to Royan and I notice I've reached 5000kms. today!
I'm a bit in a hurry, which is totally against my principles! At the end of the week I will meet my father, my eldest brother Robin and his girlfriend Adriana. Because they don't want to drive to far into France, I have to go and meet them. Talking about unfair chances! This means that I do 150kilometres a day and that for 4 days in a row.

At last I have a prospect of two days of rest. I look for a camping-side in Mervant, the Vendee region in France. After a bit of negotiation with the proprietor I can stay for the night at a low price. I'm even allowed to have a look at my website. 'Madame' the proprietor's wife is amazed when my photo appears on the screen: « Mais c'est vous sur cette photo » « Bien sûr, Madame! » From this day on I'm the local VIP! A bientôt !