Dear readers,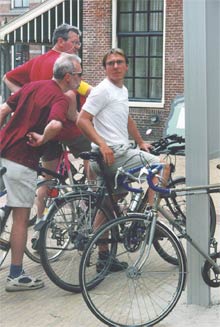 I have a date this weekend! Kind of a blind date though… As I'm relatively not that far away from home (about 380km) my parents will pay me a visit taking some mysterious friends or relatives in tow: surprise, surprise!
In the port of Newcastle upon Tyne in Northumbria I purchase a ticket and stand in line to get on the ferry. My bike gets a free crossing! « Oh, I didn't know I had to pay for my it too! » I try my trustworthy scout face when the ticket collector remarks I have no ticket for my bicycle. She shakes her head and looks at me in a bemused way. "All right then, off you go!" I'm shown to my cabin and the ship puts out to sea. In approximately 16 hours Scandinavian Seaways brings me to IJmuiden in the Dutch province of Noord-Holland. After a perfect crossing I cycle to the quay – realising I can finally ride on the right side of the road again – and look, there's my friend Peter waiting for me. He has come from Leuven by motorcycle, so today's trip will be an unequal fight! It's lovely to see him again and the first night we camp together near the residential town of Bergen.
The next day the roads luckily get less crowded. Holland: 'a paradise for cyclists', which is what the ads tell us and aren't they right! Cycling is a sheer pleasure here where there's still space and respect for cyclists.
The 'Afsluitdijk' is a more than 30km. long dam which was built in 1932. It divides the former South Sea from the North Sea. Cycling on it means struggling against very strong wind; on one side you have the, at times, wild North Sea and on the other side the rippling IJselmeer.
Water, boats, canals, brooks and ditches and luckily now and then a small bridge: all the water from the Scottish heavens is displayed in front of me! Luckily it stays dry. Typical monumental farms with big red tiled roofs 3times higher than the actual farmhouse give away that we're in Friesland, the flat, green and friendly province in the north of the Netherlands.
Romantic old-fashioned windmills make way for modern white slimline contraptions.
Charming woods surround the small village of Oudemirdum where we've arranged to meet. The camping-site is called 'De Waps' – wasp- in English. Not that difficult the Fries language, is it? We set up tent just for one night, as tomorrow we'll be put up in two hiker's huts together with our mysterious visitors.
Eric and Rudy, two 'old' friends of our family are the first to arrive the next day followed by my parents, my youngest brother Jens and Jan, a colleague of my Dad's and also a keen cyclist. It's good to see them all. I dig up some stories of my trip while enjoying Mum's homemade picnic. For a moment the taste of these familiar recipes gives me the feeling to be in our back garden at home!
The weather looks promising and in the afternoon the toughest among us – no, I won't give away any names! - explore the surroundings. Even in summertime Friesland is under the spell of the 'Elfstedentocht'. This outdoor skating event can only take place in very harsh winters, as it is a tour of 200km over the frozen canals which join together 11 Fries cities. Small villages like Workum, Sneek en Sloten are real postcards and the Fries people are most friendly. We take a break and ravenous as always, the baker tempts us to buy some of his crunchy pastries. We can't resist the smell of them and already tug in at the baker's doorstep. No problem, the baker's wife takes out the garden furniture to make us more comfortable!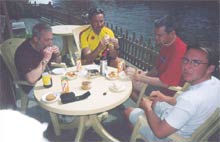 In the evening we celebrate our reunion in a most cosy local bistro. Delicious food!
How honest and trustful Fries people are is proofed at the local florist's. The flower shop is closed for the weekend but all the flowers are still on the doorstep. A small note is attached to the front door: "Dear customer, sorry for not being here but do make your choice. Just put the money in the letterbox. Thanks and see you soon" Fantastic people, aren't they? See you!