Hi,
Heerenveen is much bigger than we expected so we're running late for our appointment!
On the other side of town we finally find the KOGA MIYATA factory stowed away in an industrial estate and that's not exactly up my street!
When we finally arrive, Hans, the charming assistant is waiting for us in the showroom where our attention is immediately drawn by the diversity of bicycles shown here. We're just in time for coffee, Hans says, and while we're enjoying refreshment Hans tells us about the history and strategy of the company.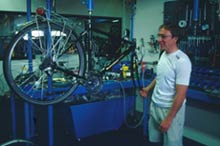 Meanwhile my bike is taken downstairs for a complete check-up in the workshop where every spot of dust or other inconvenience is taken care of! If my bike was a cat I'm sure it would be purring right now from sheer happiness. My fatigued body and limbs are aching for a little pampering, but no, the physical needs of a weather beaten globetrotter are not met.
While the bicycle is properly looked after we get a complete guided tour around the spick and span workplace. The relaxed atmosphere reveals that this is a thriving company thanks to its expertise and quality: mass production has never been its goal.
We have a chat with the highly skilled workers and feel how proud they are of their craftsmanship: every bicycle leaving this factory is accompanied by a manufacturers pass signed and dated by the person who assembled it.
I look at my brother Jens and read his thoughts: can we resist it? Shall we make a ride on that super tandem model? Hans smiles his approval and off we go! We're applauded by the spectators and make a lap of honour through the workplace!
The range of bicycles is so overwhelming that everybody starts dreaming. "If I were a rich man..." is the tune that's playing through many a head today.
Thanks to the generous sponsoring of KOGA MIYATA I've been a "very rich man" for the last 3 months and I don't necessarily mean this in financial aspect.
Once more we would like to say "thanks" to Hans and the fantastic mechanics of KOGA MIYATA in Heerenveen for a most informative day. And as people say in Friesland "Oant Sjen" ………