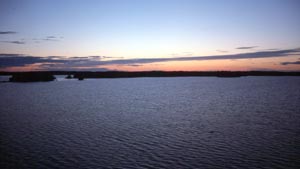 Hi,
"You must be crazy to go up north!" - "The Polar Circle is nothing less than vastness, solitude and monotony" - "And all those annoying mosquitoes! ". This is the verdict I hear all the time, even from weather-beaten adventurers. Is it a prejudice? Or are local people just being concerned when they claim that the charm of the barren north lies only in the idea of the traveller? One thing for sure, the Norwegians I met while touring the fjords frowned their brows when I unfolded my plans to travel northbound to the Polar Circle. Not a single local travels more northerly than where one lives.
Maybe it's about time I listen to some sound advice and reschedule my trip. Like the majority of the Scandinavians Santa Claus will have left for his summer house by now. Moreover, thanks to Anita Pesonen, a Finnish colleague of my Dad's, I have a most welcome 'real' bed waiting for me in Helsinki. Anita, who is working in Belgium, has invited me to stay at her home in Helsinki. Her parents will be waiting for me there. What a treat!
The crossing over the Botnic Gulf from Stockholm to " the land of the thousand lakes" takes 12 hours and a long and sleepless night.
There are about 188.000 lakes in Finland, with that record Finland has hit the world stage. The Fins are keen record breakers. Did you know they are the world's top library visitors! And I'm sure you must be thinking I'm pulling your leg by telling you that nothing less than the passionate southern tango plucks many a Finn's heartstrings! There are even some Finnish gossipmongers pretending they were the ones learning the Argentineans how to dance a tango!
In Turku, an important port city and the most ancient city of Finland I start my 170-km long and supposedly flat trip to Helsinki. But in this ancient agriculture area where fields and woods alternate with scattered lakes the hilly terrain and the persistent headwind make me discontinue my trip after 107 km. Deadbeat I stumble into my sleeping bag. Not even the noise of the lorries racing along can keep me from catching up on my night's rest. Anyway tomorrow I'll sleep in a comfy bed. An unfamiliar luxury in these times of hardship!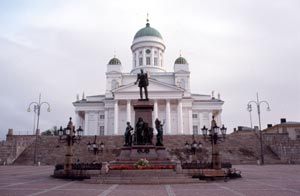 The moment I reach Helsinki it's quite difficult to find the correct address. Luckily the Fins are very helpful and friendly and after a small detour via the post office and a valuable call to the city information help line I end up one hour later at the front door of my Finnish host family.
Obligatory to the Finnish costume I take of my shoes immediately, ground rule number one to be on friendly terms with the Finns!
I meet Anita's friendly mother who happens to speak English, which is quite a relieve for me.
After dinner I'm off to town. Like the other Scandinavian capitals Helsinki is intimate and clean, green and surrounded by water.
At the local supermarket's checkout I pay my daily pint of fresh milk with hard cash. There's no King Albert on the back of the brand new Finnish Euro but a slender swan as a symbol to the Finnish nature. Shopping is not that easily as in Norway and Sweden. The Finnish language is incomprehensible. The pint of fresh milk I've just bought falls with a thud in my mug: full dairy yoghurt! My rule of thumb for the rest of my stay: shake before purchase and you'll hear immediately whether it's milk inside or not. Arriving back home I see my laundry and sleeping bag on the washing line, blowing in the wind. I hadn't realised it was that urgent! I'm feeling quite at home as this lovely couple is pampering me all the time. After two nights under the Jokinen roof I take leave of the most hospitable family although saying goodbye to father Jokinen who only speaks Finnish is quite a challenge. Open up a Finnish dictionary and you'll see what I' mean.
Näkemiin!
P.S.: I would like to say thanks once more to Anita and her parents for the warm welcome they have given me! Hope you all keep in good health and for Anita, I sure owe you a drink once I'm back home! See you!