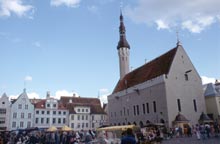 Dear reader,
It's early in the morning when I leave the home of the Jokinen family in Helsinki. I'm on my way to the early ferry, which will bring me to Estonia, the first of the Baltic States.
In spite of the early hour there's a lot of hustle and bustle in the port of Helsinki. Passengers boarding the ferry are not only tourists though! For years now Estonia has been flooded with "thirsty Finns".
Even at this untimely hour they lurch on deck, a bottle close to their lips. And once in Estonia they only have the tax-free drink in view. Bottoms up!
The sea crossing over the Finnish Gulf is about 80 km long. Unfortunately it was this crossing which ended tragically a few years ago for the "Estonia" ferry. The vessel vanished to the bottom of the sea, taking the majority of its passengers and crew.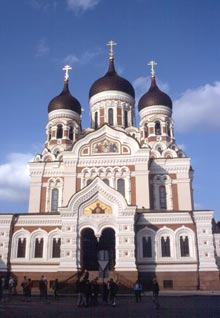 Tallinn, the capital of Estonia, is a well-preserved historic city. It has a jumble of medieval cobbled streets with wooden houses and spires. Red-tiled roofs and soft pink and blue painted houses mixed with a touch of ochre give a real Old-Europe feeling. On cosy squares and secluded alleys the Middle Ages seem still under way.
After the overdose of Vikings of these last few weeks I enjoy seeing knights, adequately dressed for the occasion, which is making it very fascinating!
Contrary to what I had expected costs soar much higher here in the Baltic States. Nevertheless I pamper myself with a cosy hostel and of course the obligatory sauna!
Sharing my room with my bicycle and with a roommate has advantages (safe for my bike) and disadvantages (dead drunk and chatty Finn, who happens to be a sleepwalker as well). A good night's rest, forget it!
The next day I consider myself fortunate for having a new roommate who luckily turns out to be a fully-fledged American biker. As she too has been touring Europe we have plenty to talk about, resulting once more in a too short night.
Next stop after 149 km is Pärnu, an appealing destination, famous for it's mud baths. It's a post-card pretty place with wide leafy streets an sandy beaches. Once more I spend the night in company. I share my hiker's hut with at least 100 mosquitoes. But one thing I can tell you: none of them has seen the daylight again!
The homeland of cyclist Kirsipuu is predominantly flat with extensive bogs and marshes. A strong adverse wind from the south though and a scorching sun make my 196-km ride to Riga, the capital of neighbour Latvia a road to hell.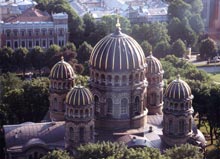 The street scene is dominated by Mercedes, BMW's en Audis. I see more fancy cars here than in Western Europe. Being a vulnerable road user you have to watch out. Even a zebra crossing can't be found here!
I cross the Latvian border and arrive in it's capital Riga where I find a place for the night in a student's home and I get to know two nice Latvian roommates. Laurus, a 2-metre giant offers to be my guide in the historic quarter of Riga.
Thanks to a wealth of magnificent "Jugendstill" buildings, more than 600, Riga figures on the World Heritage List protected by UNESCO.
Unfortunately these buildings are often in a bad state of repair which makes the city less enchanted than Tallinn.
In the beginning of the 19th century Riga, also known as "the Paris of the East", grew out to be a thrumming mix of diplomats and traders but also of more dubious individuals. It's said that intrigues were the order of the day!
Kalinigrad, the severed part of Russia, strategically set between Lithuania, Poland and the Baltic See is supposed to be my next stop. It requires a visa though so I hop into the Russian embassy in order to obtain one. Because I lack an invitation and I don't have enough cash at hand to impress I get the feeling that it's not going to work.
No problem, Europe is big enough to consider an alternative!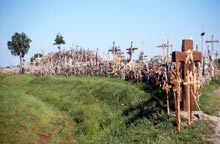 In Lithuania, the last of the Baltic trio, I have to watch out for the many puddles in the roads. Horse and cart are still popular transport and the shops look chubby and dirty. The positive fact is that you can find lodgings for less than € 5 a night.
In the slightly rolling landscape an extraordinary feature emerges. This has to be Kryziy Kalnas " the Hill of Crosses" in the neighbourhood of Siauliai. Two hillocks are covered in a forest of thousands upon thousands of crosses, some are devotional, and many memorials for people deported to Siberia and others are finely carved folk-art masterpieces.
The tradition began in the 14th century and even though at the time of the Soviet rule the crosses were bulldozed time after time they sprang up again.
Minutes before reaching Kaunas, a Lithuanian University City, a summer storm bursts. Just what I needed on top of today's endurance test! The 154-km lap with 31° in the shade, scorching sun and headwind leaves me completely washed out. This is a day that will stay fixed in my memory for a long time!
But let's recap on what is the most important characteristic of the Baltic States. No, not its buildings or its food, but ………… they have the sexiest women I have ever seen!
So, what are you waiting for?
Get a move on!